Examples of chip systems include our Ultra coating systems. For these systems, a standard or moisture-mitigating epoxy primer coat is applied followed by a color coat. Thermoplastic chips are then broadcast into the color coat in a "full chip" spread (Ultra). To finish, two clear coats (Ultra) are applied.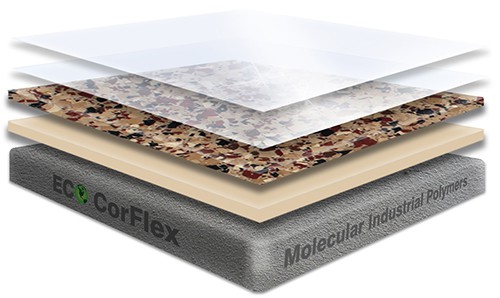 Ultra Color Samples* – Click on the color samples below for an expanded view.
*Due to screen color calibration settings, images and color tones may vary from actual samples.
Chip Systems – Color, Contrast, Texture and Durability
Customers looking for high-quality and durability will love our chip coating systems. Into each, we broadcast thermoplastic flakes called polyvinyl acetate (or PVA) in the final color coat. These "chips" provide added color, contrast and texture. Our Deluxe, Premium and Ultra flooring are examples of chip systems…each of which is available in a variety of colors and styles.
Why choose a Chip System?
Like all of our coating systems, chip systems provide customers with all the necessary dimensions of quality…performance, reliability, durability, serviceability, and of course, aesthetics. But chip systems are also popular with our more budget-conscious customers.
We use industrial-grade, eco-friendly, low-VOC products. Like all our coating systems, chip systems provide impact, chemical, moisture and stain resistance. And the added benefit is they're so easy to maintain! Oil, brake fluid, dust, grime and other chemicals can be wiped up quickly and easily.
We're specialists in epoxy, polyurethane, polyurea-polyaspartic floor coating installations. As a customer, you can derive great comfort in the fact that our installers are highly trained in the art and science of application. Our company has developed expertise beyond that of our competitors. And we only use our proprietary, commercial-grade coating products. Most importantly, we take pride in our customer service, including our free, no-pressure estimates.
If you're worried about slippage, don't be. We incorporate aggregate we call "anti-skid" into the final coat of all of our garage flooring. We can adjust the type and quantity of anti-skid to reflect your level of concern. There are multiple options, from our least aggressive (and least visible) polypropylene spheres to the more "aggressive" (and more visible) quartz and aluminum oxide.
We Coat More than Just Garages

And we promise our floor coatings will turn your garage into the talk of the neighborhood. But…we coat far more than garages! We professionally install our epoxy, polyurethane, polyurea-polyaspartic coating systems on exterior patios, walkways and driveways…and inside too, in kitchens, basements and office spaces. We coat huge warehouses, restaurants, parking garages and airplane hangars. Winter, spring, summer and fall…residential, retail and commercial! Any time, any space.
A Solution for Damaged Concrete

Our chip coatings are also used to conceal minor and major concrete imperfections such as surface cracks, efflorescence, pitting and breaks. And the bonus? Once applied, these systems provide anti-dust properties and make cleaning a snap. (Most dust originates from the cement floor itself! It then gets circulated and tracked throughout your home or work space).
Just choose your preferred chip system and we'll handle the rest. We're committed to customer satisfaction and the highest quality service possible. You can count on us at every step. Beginning with design and throughout installation, we guarantee a worry-free process. All you need to do is relax and enjoy your newly transformed space.